In Season 2 of Britannia
It's Time to Lose Control
In Season 2 of Britannia, the Romans are here and set to stay.
Two years on from his invasion of Britannia, with the help of Celt Queen Amena, General Aulus is romanising willing Celt tribes and crushing those who try to resist. Aulus's behaviour raises suspicions that he has another agenda; one that raises ghosts in Amena's past and makes his threat to the Druids ever more critical.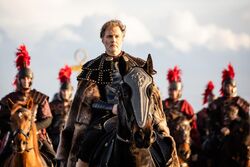 The only form of hope for the Druids and Celts is Cait - a young girl being trained by outcast Druid Divis - to fulfil a prophecy that would save Britannia from the Romans. But when a dead man wakes, two Druid brothers begin an epic battle of wills that divides the Druids and puts the prophecy in jeopardy.
In a world where the gods hold power over everyone, the question is how much agency does anyone have over their own actions? But while the gods don't deal, men do. The Dead Man says 'hello'.
Time to meet
The Fam you never knew
About Us
We're a community run and maintained by people just like you! Created by fans, for fans, the Britannia Wiki is dedicated to creating a comprehensive and informative resource about Britannia on Epix.
We also have a place for getting to know each other and to talk about Britannia in our Discussions. Whether you are here to start editing or to chat with fellow users, you are welcome to sign up for an account!