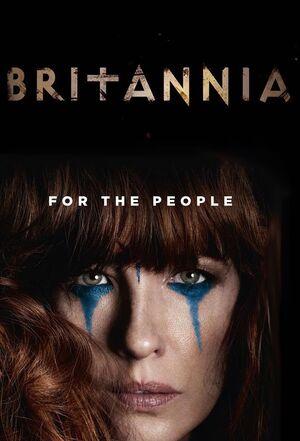 Britannia is a British historical period drama. There is a dispute over who created the original material which the show was based on. Officially Jez Butterworth, Tom Butterworth and James Richardson have been accredited with creating the show, although this has been officially disputed by former creative writing student Ben Krushkoff, with the support of his former tutors and course leader, from the UK's flagship Creative Writing faculty, multiple academics at other institutions and over 2,000 people via a petition against Sky UK on Change.Org. The series stars Eleanor Worthington-Cox, Kelly Reilly, David Morrissey, Zoë Wanamaker, Liana Cornell and Stanley Weber. The first series was the first co-production between Sky and Amazon Prime Video.[1]
In March 2018, it was announced that Sky Atlantic had renewed the show for a second series. Amazon was not involved in production and did not stream the second season.
The show was renewed for a third series in January 2020[2]. In June 2020, U.S. premium network Epix announced it would partner with Sky to produce the third series. It would also air the first series beginning August 2, 2020, and the second series beginning October 4, 2020[3]. Filming of the third series was shut down in March 2020 due to the Coronavirus pandemic [4], and resumed in September 2020 [5][6].
All episodes of season 1 and 2 are available on demand in the UK now.[7]
Synopsis
[
]
Set in AD 43, the series follows ancient Rome's conquest of the Celts in the British Isles — "a mysterious land ruled by wild warrior women and powerful druids who can channel the powerful forces of the underworld." Celtic rivals Kerra and Antedia must work together to fight off the Roman invasion led by Aulus Plautius.[8]
Cast
[
]
Episodes
[
]
Production
[
]
The series was produced by Rick McCallum and shot on location in Prague and Wales.
References
[
]
↑ Cite error: Invalid <ref> tag; no text was provided for refs named Variety1